Personalised video that drives results | Video Marketing Services
Trusted by Leading Brands
/ Give it a go
Create your
Personalised Video now.
Simply input your details, click 'Create my video' and watch your Personalised Video within seconds.


/ Testimonials
What our

clients say

.
/ How it works
Video that

connects

.

We deliver the end-to-end service, from concept development scriptwriting through to deployment and analytics.
1.

The Creative

We create a master video in your preferred style - from 2D animation to live production.

Experts in video creation | End-to-End and Modular Servicing | Personalisation in audio and text
2.

The Data

We use your customer data to map media using programmatic language and endless lines of logic, transforming the video into a personalised gem.

Unlimited Data Points | Variable Scenes | Channel Reversion | Live Data Rendering
3.

The Player

Each personalised video is served using our video player, allowing for device optimisation, interactive content, and MI tracking.

In-Video Interactivity | Clickable Call to Actions | End-to-End tracking | Multi-lingual Subtitles | Device Optimisation
/ Why Personalised Video?
Video that




moves

.
Sales
uplift in sales when using personalised video
Open rates
open rates with dynamic content
Engagement
of personalised videos are watched to the end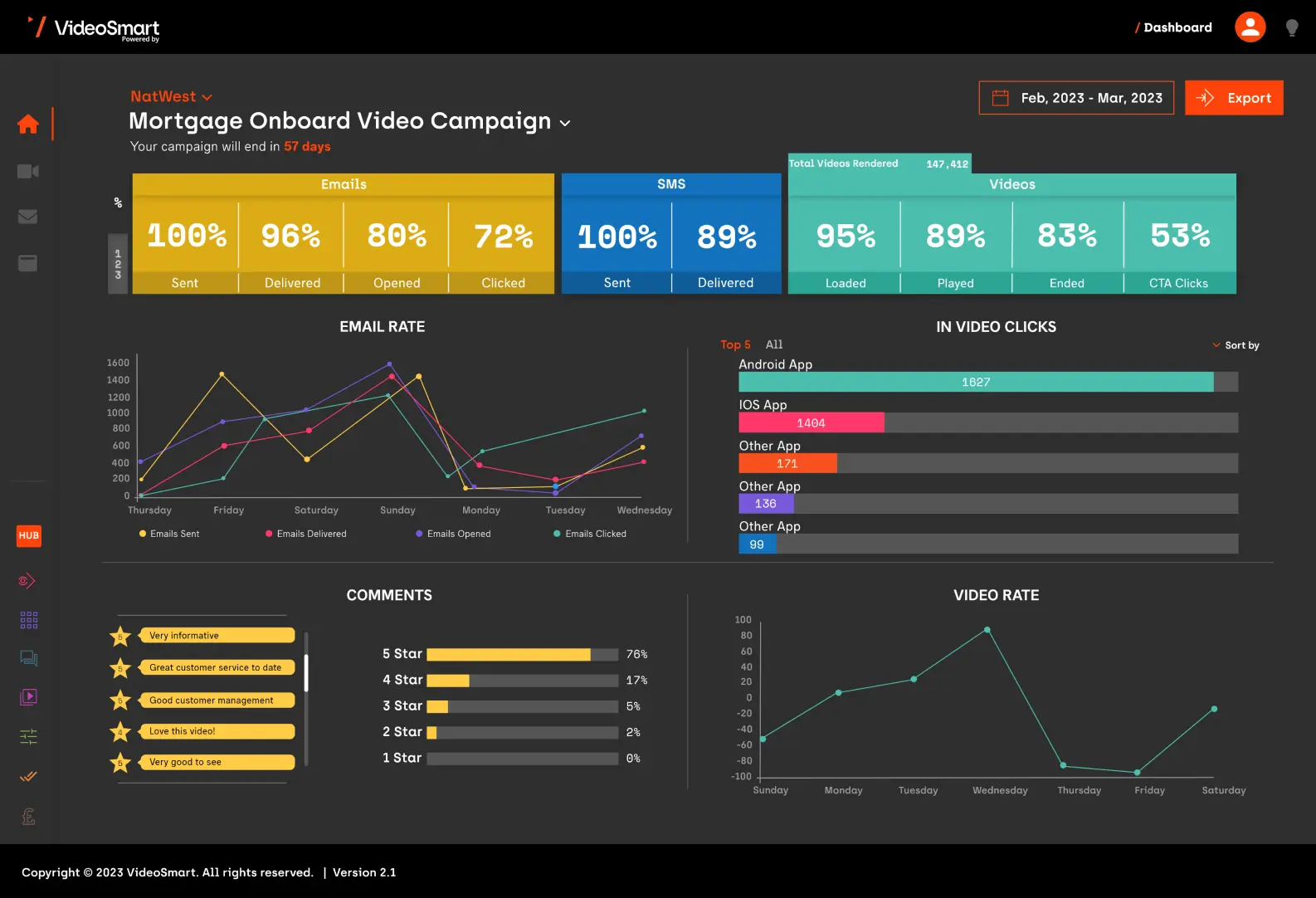 End-to-end tracking.
Track your results in real-time via your personal dashboard to gain maximum insight.
Subscribe to get notified about our latest campaigns and company news!
Get the latest direct to your inbox.
Our
Personalised Video Pricing
Calculator.
Fill out your requirements below to find out how much your personalised video could cost.
Personalised Video FAQs
Frequently Asked Questions
Need something cleared up? Here are our most frequently asked questions.
/ What is a personalised video?
A
personalised video
is the ultimate marketing and communication tool. Our martech stack allows you to combine customer data with engaging video content to deliver a unique video to each and every contact, at scale.
/ Why do marketers use personalised video?
Because it works! In a world where the average consumer sees up to 10,000 ads every day - it is more important than ever for your communication to stand out. Personalised video is a dynamic, engaging, and highly-accessible tool that is 10 steps ahead in this digital-first-world.
/ How do I personalise a video?
VideoSmart is a managed service. Our proprietary software enables our experts to create millions of unique, personalised videos in real-time, so you don't have to. We can support with the end-to-end service, from creative and design through to build, deployment and analytics.
/ How do I track results?
We provide a personal dashboard for each and every video campaign that goes live. We can track everything from email open rates to in-video clicks, and everything in between.
See More
Helping you
make the most

of your marketing.Contact us